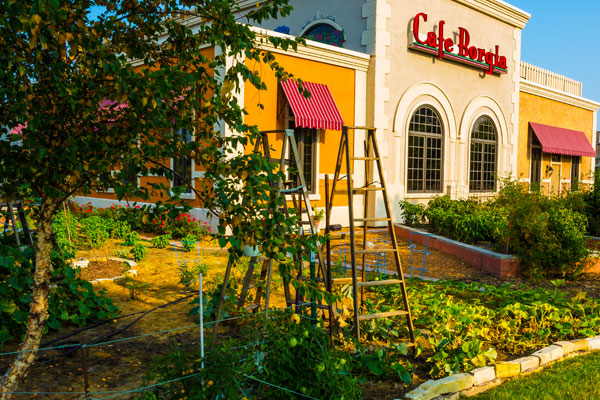 2015 | Munster Garden Club
Chef's Garden at Café Borgia
10018 Calumet Avenue
Our own Chef's Garden is a featured stop on
2015 Munster Garden Walk.

Friday June 26 4:00pm – 8:00pm
Saturday June 27 12:00pm – 4:00pm

Since 2007 the garden at Café Borgia has evolved
from a few groups of flowers into an edible treasure.

Located on what used to be farmland, the planting beds for 2015
will contain the following:
basil
cucumbers
eggplant (baby & black magic)
parsley
peppers (assorted)
rosemary
squash (zucchini, yellow & butternut)
tomatoes (assorted)



Our diners will enjoy the freshest of salads all summer long from the plentiful garden yield, with basil by far being the favorite herb! Flowering apple and pear trees surround the restaurant on the busy Calumet Avenue corridor with fragrant grapevines stretching out on trellises along the south side near the rose bushes. In addition, an opening was created to connect the outdoor patio so diners could enjoy the view. Functional and practical in nature, the goal is to provide seasonal vegetables for Café Borgia, while simultaneously decorating the grounds. The Café Borgia garden, tended to by Chef Jesso and his helpers, is an ongoing work in progress.


Find out more by visiting The Munster Garden Club.


Homemade Lasagne al forno

Treat yourself and your guests to our homemade lasagne al forno, one of the many items featured on our catering menu. Made with fresh ground beef, ricotta, mozzarella, parmesan, spinach and tomato sauce, this item is sure to be a party favorite. For your convenience, catering online is available.
Check out what the The Times of Northwest Indiana had to say about this dish.



Enjoy the taste of summer!

Our June Specials incorporate fresh vegetables throughout, beginning with our grilled romaine wedge salad with parmesan dressing & croutons. Grilled portabella mushrooms, mozzarella & smoked bacon blend flavors for the special pizza. Fresh vegetable risotto combines asparagus, wild mushrooms, sun-dried tomatoes & Brussels sprouts with vegetable broth for a light vegetarian summer entrée.

Our own Stoli Noli—vodka infused with fresh pineapple on the rocks—is the summer cocktail favorite.


Cafe Borgia Recipe | No.5

Watermelon Martini

Our featured recipe is a refreshing Watermelon Martini. Try it yourself this summer.


Café Borgia Special Event

Save the Date for Chef's Workshop


September 21
Monday
6:00pm
© 2015 Café Borgia. All rights reserved.